Caryn Zinn
Caryn Zinn Nutrition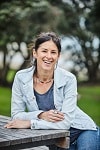 Specialties: Autoimmune diseases, Diabetes Type one, Diabetes Type two, Gut health, Heart disease, IBS, Insulin Resistance, Metabolic syndrome, Sports nutrition, Weight loss
Contact Details
+6421 422 911
Flexa Clinic
160 Lake Road, Northcote, Auckland, NZ
Qualifications
PhD
MHSc
BSc. Med (Hons) Nutrition & Dietieics
BSc (Physiology)
About
I am  NZ Registered Dietitian with 24 years of experience of clinical practice.
My clinical practice involves an integrative approach to health, and I focus my work on tailoring a whole food, low carbohydrate, healthy fat and keto approach (where appropriate) to individuals and families with a variety of chronic conditions.
My experience with the low carb approach has spanned the last 7 years of my career. I do both in-clinic and remote consultations.