Darren Cash
Darren Cash & Associates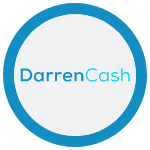 About
Coaching busy people: crush the office bod, invigorate life, lose weight & gain more energy ?
? 1:1 online coaching.
Wholefood Low Carb lifestyle
I can understand the pressures of your career, balancing time with the family and somehow making time for you. I know because I've been there too!
I'll work with you to design your personal health coaching programme, based on leading science and research, and my personal experience, that has the potential to change your life for the long term.
No fluff. No bull. No fad diets. No crazy gym work outs.
I don't offer a quick fix but my approach will help you create a lifestyle change that is achievable, sustainable and rewarding.