Danielle Toscan
Nutrition for Life Healthcare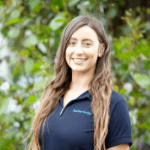 About
Danielle is an Accredited Practising Dietitian (APD) and Food Scientist from Launceston, Tasmania, with a Bachelor of Food Science and Nutrition and Master of Dietetics from Deakin University in Melbourne.
Danielle joined the Nutrition for Life team in 2016 after gaining experience in various settings interstate including in hospitals, within the community, and within the food industry.
Growing up with a European background taught Danielle to appreciate the value of good, wholesome food and what it can do for your health and wellbeing.
Danielle believes that cooking and eating should be enjoyed and not feared and that it can bring people together like few other things can! She is also a huge believer in supporting local producers and home cooking using fresh, seasonal produce where possible… but she also enjoys treating herself to the occasional meal out at one of her favourite local eateries.
Danielle loves the work she does, as she can really help people feel good about themselves. She is passionate about working with individuals with various inflammatory conditions, improving the health of the gut and achieving optimal digestive function.
Additionally, Dani uses a lower carbohydrate approach to manage insulin resistance and diabetes, assisting with hormonal conditions like PCOS, and developing suitable eating plans for those with food intolerances and allergies.
Dani is very knowledgeable in the area of fasting and teaching the principles of various fasting protocols. She is also one of a small number of dietitians in the country who specialise in tailoring a ketogenic diet to individual needs after many years of experience in this area.