Dr. Chris Edginton DC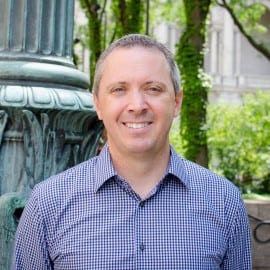 About
Dr Chris Edginton, B.S., B.Sc., DC, Cred. MDT
The reason I began helping my patients with weight loss began with my own story. Despite having always been slim, my wife encouraged me to get a cardiometabolic blood panel, just to be safe. I procrastinated for a long time – but as it turns out her persistence exceeds my resistance – and I went. I was shocked to learn that I was not as healthy as I thought (for example my triglycerides were 388 when they should be less than 150). I freaked out and dove heavily into the biochemistry and science behind normalizing my numbers. Having gone to Chiropractic school, I had a strong background in the science already but the research had come a long way since my school days in the 90s.
In that study I learned that carbohydrates, and more specifically chronically elevated insulin, is the basis for so many of our modern diseases (and my elevated triglycerides). As a way to reduce those triglycerides, I eliminated carbohydrates from my diet. Nearly immediately I stopped excessively sweating, and then the weight started to come off – weight that I didn't know I had to lose around my stomach! – and I lost 20lbs. My blood numbers have normalized and I've never been in better fitness, so I remain low-carb all these years later.
Patients in the office started to take notice to my transformation so I decided to help them with their weight issues. I essentially take patients through the same method I underwent. By getting baseline blood numbers, we establish baseline metabolic status and give ourselves a basis for making lifestyle and diet changes. Using weekly food journals along with teaching patients about the body's hormonal response to various food-types, we empower patients with the knowledge to understand why they gain (or lose) weight, giving them the tools for life-long health.