Dr. Rimas Janusonis MD, FAAFP
ThedaCare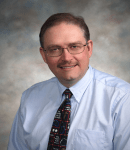 About
I found many, many areas of medicine I liked in my years of study and practice. That's why family medicine and the variety it offers is such a good fit for me. I get to help and heal people throughout their lives and make a real difference for you and your family.
When I care for you, I love to teach you how your body works. I see myself as your partner and trusted adviser in coming up with a plan of care focused on you.
I have always struggled with my weight throughout my life, worsened by the stress of medical school and residency.  The birth of our first child, with routine screening lab work showing metabolic syndrome was my wake-up call to do something about it.  I had tried the usual advice of "eat less and move more" that is routinely taught as gospel truth in my profession, but this never provided meaningful results.  I did more research and reading, and fully implemented carbohydrate restriction – this resolved my metabolic syndrome and allowed me to make significant progress in my weight.  I'm not entirely where I would like to be (more work to be done), but I know I will be around for my children (and grandchildren).
The results I saw rejuvenated by desire to help my patients improve their health, and has allowed me to help patients improve their weight, improve their cardiovascular status, and better control their diabetes (and even put it into remission!).
When I'm not at work, I enjoy physical fitness, martial arts, computers and high-fidelity audio and video.