Niel Rasmussen M.D.
Headland Family Medicine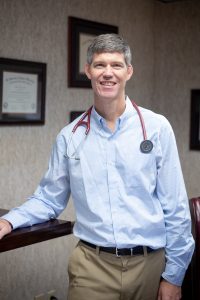 General Medical Practitioner (GP)
Specialties:
Contact Details
https://www.headlandfamilymedicine.com
334-693-3336
Headland Family Medicine
204 Holman Drive
Headland, Alabama 36345
Qualifications
Bachelor of Science from Birmingham-Southern College
Doctor of Medicine from University of Alabama at Birmingham School of Medicine
Board Certified in Family Medicine
About
I am a Family Medicine physician practicing primary care in a rural county of Alabama.  I prescribe low-carbohydrate, ketogenic diets to my patients as an option to both treat and attempt to reverse many chronic diseases of our modern age. I have found this to be a very powerful tool for patients to regain their health and wellbeing in conjunction with other important lifestyle changes (exercise, sleep and stress reduction).