Dr Sukhpal Shergill MBChB
Harley GP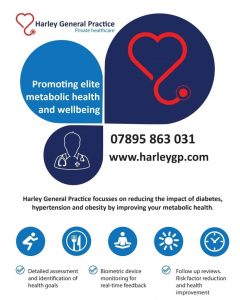 About
Harley General Practice focusses on reducing the impact of diabetes, hypertension and obesity by improving your metabolic health.
At your first consultation we will assess what improvements we can help you achieve such as avoiding medication for hypertension through weight loss, reversing diabetes or avoiding becoming diabetic in the first place and reducing weight to improve how you look and feel.
If you are suitable for the programme we will provide you with biometric devices to monitor continuous blood glucose, periodic blood pressure and interval weight and body composition assessment. This will provide personal and precise measurements of your blood pressure, weight, visceral fat in a 'real-time' format. You will be monitored remotely to maximise your chances of success of meeting your objectives.
Nutrition and exercise will be tracked and optimised at 5 follow up appointments. These will be planned and agreed over the course of the year. We aim to work around your busy schedule to provide convenient consultations. There is an option to have these appointments via telephone or video call if it is difficult to make it to our offices.