Dr. Eric Thorn M.D., F.A.C.C.
Virginia Hospital Center Physician Group - Cardiology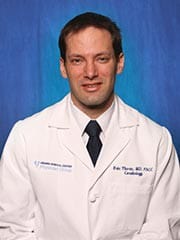 About
Dr. Eric Thorn received his Bachelor's degree Summa Cum Laude from Duke University and attended medical school at the University of Maryland School of Medicine. He was elected to Alpha Omega Alpha in his junior year and graduated at the top of his class, receiving both the Bader Scholarship Award for Academic Achievement and the Theodore Woodward Prize in Internal Medicine. Dr. Thorn went on to complete his Internal Medicine Residency at Johns Hopkins Hospital before returning to the University of Maryland for fellowship training in Cardiology. He also received additional training in cardiovascular MRI at the National Institutes of Health.
Board-certified in Internal Medicine and Cardiology, Dr. Thorn is also a board-certified Practitioner of Nuclear Cardiology and Obesity Medicine. Dr. Thorn has been named as a Top Doctor in Northern Virginia Magazine, the Washingtonian, and Arlington Magazines. Dr. Thorn has a broad range of interests within the field of cardiovascular medicine. He is the Director and Founder of the Virginia Hospital Center Metabolic Health and Weight Management Program.
Dr. Eric Thorn has a particular clinical interest in prevention, wellness, and weight loss. He believes that real food based nutrition, physical fitness, and a balanced lifestyle are the cornerstones of cardiovascular prevention. Through healthy living combined with strategic and appropriate use of diagnostic technology, medications, and more invasive procedures, he helps his patients achieve optimal cardiovascular health.
"My approach to care starts with being a careful listener," says Dr. Thorn. "I make a point to consider my patients' entire health and life circumstances since cardiovascular disease and risk for cardiovascular disease do not occur in isolation."