Health & Nutrition Coach Daniel Velardo
On The Run Coaching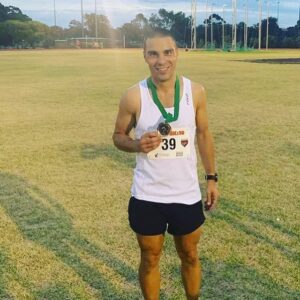 About
For individuals who are striving to achieve their personal goals, On The Run Coaching is an online run, health, and nutrition coaching service that will enable you to be the best version of yourself, and not only meet those goals but move beyond them.
I'm a certified Run, Nutrition, and Health Coach based in Melbourne. I'm a father of two young children and a husband to Jenna. One of my greatest passions is helping people achieve their personal goals, whether that be running a personal best, leading a healthier lifestyle, having more energy for everyday tasks, or taking control of their health and fitness goals.
I'm a passionate and experienced sponsored runner (Fisiocrem) and coach. I hold a Level 2 run coaching accreditation with Athletics Australia and am a V.02 Certified Distance Running Coach of Dr. Jack Daniels' VDOT running philosophy. I have coached a range of athletes for several years and many have succeeded and continue to achieve personal best times. I have experience in events from the 1500m, mile, 3k, 5k, cross country, 10k, half marathon, and marathon. My philosophy is to be consistent with training, trust the coaching process and the results will come.
I'm a JERF (Just Eat Real Food) advocate and a member of the SugarByHalf team, led by Dr. Peter Brukner OAM, and a graduate of the Nutrition Network, led by Prof Tim Noakes. I lead a low carb healthy-fat lifestyle and believe the food we consume is a catalyst for us being the best version of ourselves. We currently live in a world where lifestyle diseases are impacting upon our physical and mental health, and it's about time we face the problems and take back control using a food-first approach. I'm the host of the SugarByHalf podcast, where it is our mission to educate people about the effects of sugar and cut our national consumption by half. I have also presented at the 'Low Carb Lifestyle Long Weekend'.