Logan Walker APRN
CHI Health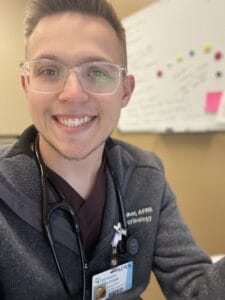 Specialties: Autoimmune diseases, Diabetes Type one, Diabetes Type two, Gestational Diabetes, Insulin Resistance, Metabolic syndrome, NAFLD, PCOS, Pre-Diabetes, Sports nutrition, Thyroid dysfunction, Weight loss
Contact Details
https://lowcarbpractitioners.com/
402-717-3636
CHI Endocrinology: Valley View, University Campus, La Vista, and Lakeside clinics.
https://www.chihealth.com/en/find-a-provider/logan-walker-aprn.html
Qualifications
APRN - Morningside University, Sioux City, IA.
FNP-C - Family Nurse Practitioner certified through the American Academy of Nurse Practitioners (AANP).
About
My name is Logan Walker and I am a nurse practitioner (APRN) at CHI Endocrinology in Omaha, Nebraska. I have been a nurse since June 2019 and recently became a nurse practitioner in May 2022. Prior to becoming an APRN, I worked in the same clinic as a registered nurse doing clinic nurse duties as well as diabetes education. Once I graduated from APRN school, I transitioned into my new role as an APRN in the same clinic. I have a passion for metabolic health and overall general endocrinology conditions including the thyroid/parathyroid, pituitary, and adrenal glands, plus all the other stuff such as osteoporosis and PCOS.
I see both adult and pediatric patients and practice out of 4 different clinics in the Omaha metro area.
I highly promote and I, myself, follow a low carbohydrate, high protein (LCHP) lifestyle. I have personally lost 50 pounds by changing to this lifestyle and have had great successes with patients with improving body composition and metabolic health/markers in the body, both patients with and without diabetes. We are what we eat and amazing things happen when you remove the root cause of all these issues.