Kirsty Woods
Metabolic Health Solutions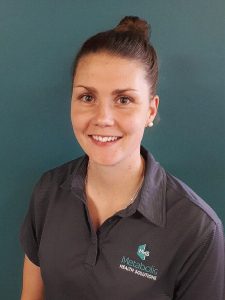 Specialties: Diabetes Type one, Diabetes Type two, Fibromyalgia, Insulin Resistance, Menopause, Metabolic syndrome, NAFLD, Orthopaedics, PCOS, Post-bariatric surgery, Pre-Diabetes, Thyroid dysfunction, Weight loss
Contact Details
https://www.metabolichealthsolutions.org/clinics/
08 9520 8616
MHS Baldivis
Suite 2/7 Minden Lane (Central Baldivis Physiotherapy Building)
Baldivis, WA 6171
T: 08 9520 8616
E: [email protected]
Qualifications
Exercise Physiologist accredited with ESSA, and registred with Medicare
About
Kirsty is a Registered Exercise Physiologist and founding practitioner at MHS. She has now helped more than 1,000 West Australians improve their metabolic health.
With over 10 years in the health industry she understands the complexity of obesity and related comorbidities, and the frustrations and challenges it can pose. Kirsty takes a very hands-on approach with clients and gets great satisfaction when they achieve long-term goals.
Her speciality areas include complex obesity, PCOS, diabetes and sleep apnea.
If required her Medicare number is 4435863J.