Reversing T2 Diabetes – North Shore
North Shore, Auckland, New Zealand
Group leader: Darren Cash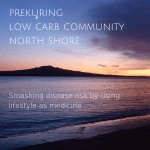 This is a community group for Members who are using, or considering using, a therapeutic Low Carb (LCHF) or Ketogenic diet, and lifestyle enhancements, for improving and maintaining their health, and reducing/reversing disease risk through lifestyle enhancements.
The lifestyle philosophies are based generally on the evidence based ethos of "prevention is cure" and "lifestyle is medicine".
Those who are Members maybe using this way of eating to
- Reverse insulin resistance or Prediabetes
- Reverse Type 2 Diabetes
- To improve chronic pain and inflammation
- To lower risk of cardio vascular disease
- To lower risk neuropsychiatric conditions, such as Alzheimers,
- To lower risk of some cancers
- To lose weight
Or just because you enjoy this lifestyle, and the way of eating
When?
Please confirm that a meeting is going ahead before attending.
Wednesday 7:30pm


Where?
Takapuna, Auckland, New Zealand
Contact
Darren Cash
Phone: +64273366559
Email: [email protected]