Reversing T2 Diabetes – Hibiscus Coast
Hibiscus Coast, Auckland, New Zealand
Group leader: Michelle Bishop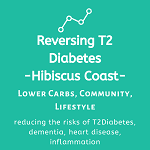 This is a local community group for Coasties (and nearby suburbs North of Auckland) who are reducing carbs and changing habits to help themselves look and feel better, to improve HbA1c and Triglycerides, or to prevent/reverse/delay the onset of Type 2 Diabetes, dementia, heart disease, stroke, inflammatory conditions, auto-immune dysfunction and other lifestyle related chronic conditions.
Our group members may be using Food, Fitness, Sleep and other Lifestyle factors as Medicine or may have completed the PreKure-Me 21 day programme. This may include experimenting with lower-carb or keto styles of eating, together with appropriate regular movement and stress reduction practices. We hold regular FREE support meetings in-person at Hibiscus Coast or Whangaparaoa.
When?
Please confirm that a meeting is going ahead before attending.
Saturday 10am


Where?
https://www.facebook.com/groups/ReversingT2Diabetes.HibiscusCoast.LowCarbLifestyle/
Contact
Michelle Bishop
Phone: 021 190 4980
Email: [email protected]