Amelie Morgan LCSW, MA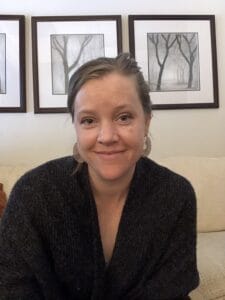 Licensed Clinical Social Worker, Mental Health Therapist
Specialties: Anxiety, Depression, Eating Disorders, Mental Health, Weight loss
Contact Details
https://greymatterscounseling.org/
773-609-3823
3701 Algonquin Rd
Suite 300
Rolling Meadows, IL 60008
Qualifications
I have 10 years of experience in the mental health field, including crisis response, inpatient psychiatric care, community-based advocacy, eating disorder treatment programs, and outpatient therapy.
About
I draw from a range of psychotherapeutic approaches, focusing heavily on cognitive behavioral therapy, dialectical behavior therapy, and mindfulness approaches. I am currently training to become a Certified Sex Therapist, and am receiving intensive education and supervision on matters related to intimacy, relationships, boundaries, bio-medical conditions, and other aspects of this realm.
I am drawn to Jungian theory, theories of personality, and theories of cognitive dissonance. I hold my clients' emotion and information with great honor and charge myself with the soaring responsibility of continued research and training.
People seek out psychotherapy for mental health support. However, in many cases, diet and nutrition play an important role in a person's sense of well-being. To this end, I recommend low-carb and slow-carb nutrition specifically for mental health clients who also have chronic pain and auto-immune disease and recommend low-carb and slow-carb to all clients to improve the nutrient density in their food. This approach, in a general way, helps to reduce anxiety and improve energy levels overall.